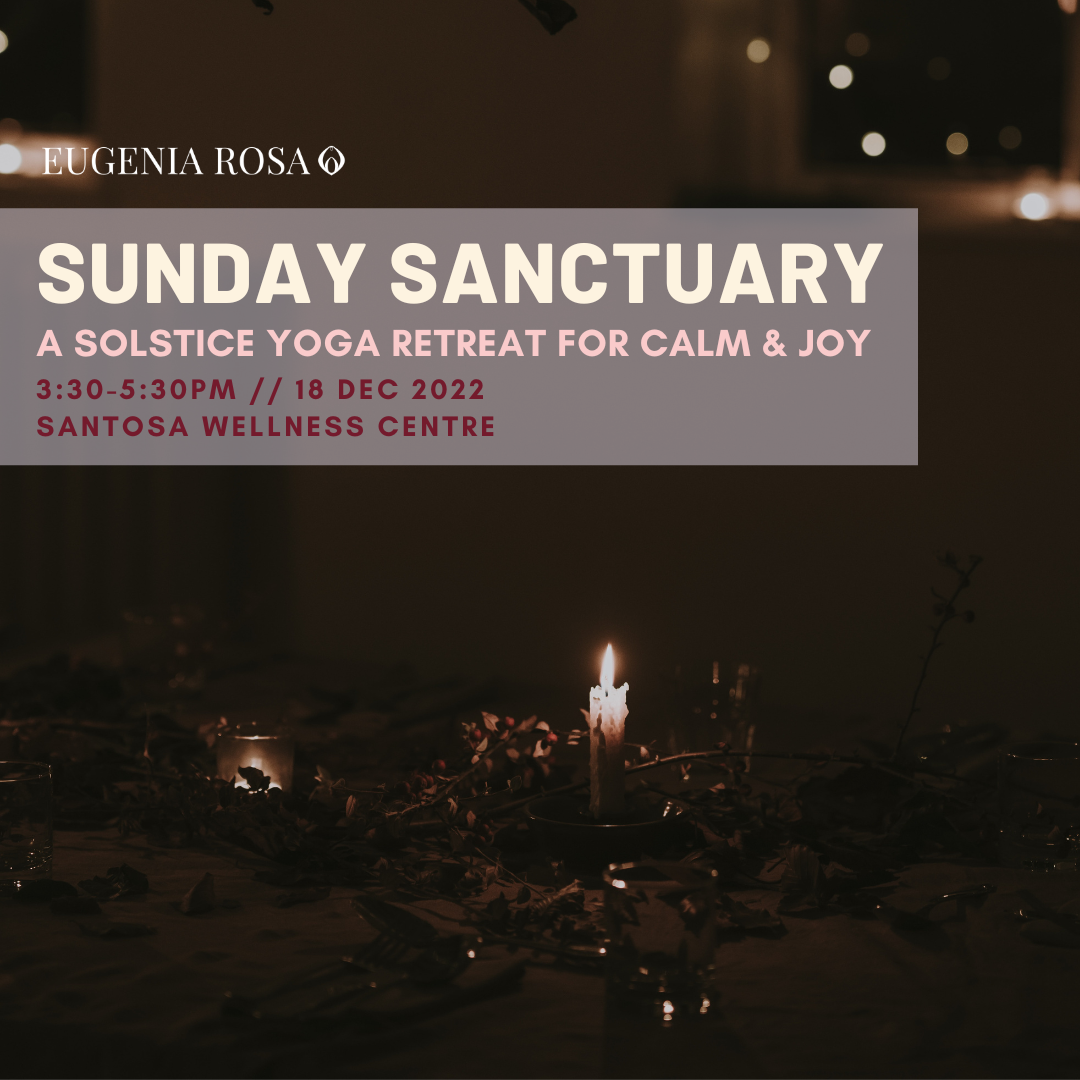 The Sunday Sanctuary – A Solstice Yoga Retreat for Calm and Joy

3.30-5.30pm / Sunday 18 DECEMBER 2022

Facebook event: The Sunday Sanctuary – A Solstice Yoga Retreat for Calm and Joy
£20 p.p. Book Online: https://eugeniarosa.com/book-your-place
 Sliding Scale places available for Concession & BAME / BIPOC please contact Eugenia directly for details
All is calm and all is quiet ahead of the darkest time of the year, Winter Solstice. Make time & space to retreat from festive hustle & bustle.
In a candlelit sanctuary, supported by a binaural soundscape to enhance soothing & relaxation, you will find ease & space whilst (re)turning inward to your inner calm.
Through seated & reclined gentle restorative yoga, movement & breath practices we will awake & open the body, release tension and return home to ourselves.
Now arrived at a state of deep relaxation we then journey deep into profound rest & bliss with a bespoke Yoga Nidra (reclined and supported guided meditation).
All welcome, no experience necessary.
LIMITED SPACE – BOOKING RECOMMENDED
Testimonials:
'The session felt blissfully indulgent as precious quiet, calm time is not easy to come by in December – especially, as a Primary School Music Specialist! Eugenia encouraged deep relaxation throughout which gently served as a reminder to every attendee on the importance of self-care during the often 'frantic' Festive Season. Rebooked already!' – Laura Matuszak, Edinburgh.
'It was like having my soul hugged from the inside, reminiscent of the forgotten protective days in the infant cradle or wrapped in the womb. That good.' – Nadalee Jackson, Edinburgh
"It can be difficult to make time for yourself in the hectic run up to Christmas but I'm so glad I did! This was a wonderfully calming experience which left me feeling relaxed, refreshed and revived." – Dr. Jenni Garden, Edinburgh
December 18, 2022




3:30 pm - 5:30 pm