𝘜𝘯𝘭𝘦𝘢𝘴𝘩𝘪𝘯𝘨 𝘠𝘰𝘶𝘳 𝘐𝘯𝘯𝘦𝘳 𝘗𝘰𝘸𝘦𝘳 𝘵𝘩𝘳𝘰𝘶𝘨𝘩 𝘛𝘢𝘯𝘵𝘳𝘢 : 𝘢𝘯 𝘈𝘶𝘵𝘩𝘦𝘯𝘵𝘪𝘤 𝘑𝘰𝘶𝘳𝘯𝘦𝘺 𝘰𝘧 𝘚𝘦𝘭𝘧 𝘥𝘪𝘴𝘤𝘰𝘷𝘦𝘳𝘺
22-23 July, 2023
Join us for an immersive and transformative experience as we explore the ancient practice of Tantra and its powerful potential for cultivating deep intimacy and fulfilment in our lives and relationships.
Led by Marija Ma Ananda Marali as a guest teacher visiting directly from Bali , this event will offer an experiential journey into the foundational principles and practices of Tantric connection.
Through a combination of guided meditations, interactive exercises, and group discussions, you will delve into the art of conscious relating, learning how to communicate our boundaries authentically, connect on a soul level, and cultivate a deep sense of trust and openness with our partners.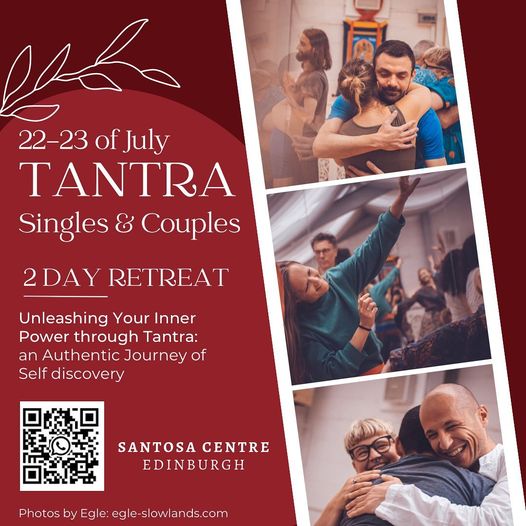 Throughout the event, you will explore a range of Tantric practices, including breath, movement, sound, touch, and dance, as well as techniques for expanding joy and intimacy in our physical and emotional experiences.
You will also examine the role of intention, masculine and feminine polarity, energy, and mindfulness in cultivating a more fulfilling and satisfying connection with yourself and your partners.
Whether you are new to Tantra or an experienced practitioner, this event offers a unique opportunity to deepen your understanding and practice of this ancient art, and to connect with a supportive community of like-minded individuals.
Join us for an unforgettable journey of self-discovery, growth, and transformation!
WHO THIS RETREAT IS FOR:
Anyone from 21 years old to 99 years old with any sexual orientation or identity as long as you are open to explore your sexuality and energy flow through the entire Chakra System.
Whether you are a complete beginner or have practised tantra for a long time – all are welcome to explore. To anyone who deeply desires to experience a powerful, loving, blissful and intimate relationship with themselves AND with others, this Two Day Immersion will be a lasting transformative journey!
INVESTMENT:
EARLY BIRD PRICE AVAILABLE UNTIL 28 June
Single Ticket (M/F) price: £365
Couple / Friends together (opposite gender): £695
Other payment options available on request.
For any questions or to BOOK please contact Andra @Holiday Within on:
07941469665 (Whatsapp)
9:00 AM – 5:00 PM (Sat)
9:00 AM – 7:00 PM (Sun)
APPROXIMATE SCHEDULE BREAKDOWN:
8:30am Registration (first day only)
9:00am – 1:00pm Morning Session 1 (with 30 minute break)
1:00pm – 2:30pm  lunch
2:30pm – 5pm Afternoon session (with 30 minute break)
* 7pm
finish on Sunday
———————————————————-
What did past participant share:
" My heart has been opened, my whole being expanded and for those two days, I felt like I've returned to my innocence, my most natural and authentic being, my fullest version of self. "- Egle
"It was a new experience and has definitely pushed me out of a few of my comfort zones" – Anthony ( 40 / Software developer / UK)
" It felt utterly safe, sacred and delicious. I could go very deep within, that's rare. " – Dude
"I feel like I have not felt this joyful, beautiful or empowered in a long time, every cell of my body was celebrating, and this is an ongoing state of being, I am truly grateful. " –
Helga (42 / Iceland )
"… the group dynamic just felt absolutely out of this world. Sharing this sacred space with many other strangers, who so quickly became like family, it's beyond my logical understanding. " – Egle
"I felt that the group was contained with unconditional love and respect for everyone. " – Helga
" Practical meditations explained clearly and ample time to get in touch with myself, supported by excellent facilitators and classmates. " – Keith (37/ Engineer/ Scotland)
"Absolutely outstanding facilitation skills, I felt so safe to drop into the core of my being. " – Helga
"Marali's teaching method is ideal for me: clearly explained practices with explanations of the spiritual basis of those methods, plus plenty of time for questions and lots of encouragement " – Keith
" Demonstrations helped a lot / made feel comfortable… I can say endless positives. Really it was so wonderful. " – Andrew ( 32 / Multi-Entrepreneur and Artist / London)
"I was a bit taken a back by the meditations, however after some reflection, I realised this was a great opportunity to let go, have fun, find myself and allow myself to break free from my own limiting beliefs…" – Anthony
" This tantra immersion was way deeper than I imagined it would be. It is hard for me to describe in words how significant this experience was for me." – Helga
FAQ's
Q: How intimate do the practices get?
A: There is no nudity or any genital touch at any of our events. Some of the practices will be paired which are done in a respectful and loving way with people deciding on what level of intimacy they would like, within mutually agreed boundaries of the space and of the pair. Everyone will be FREE to engage within their own comfort level with an invitation to play with their 'tender edge'. Ma Ananda Marali and her Team of Angel Helpers will be holding a 'safe and supportive container'.
Q: I am single and coming on my own. How does the paired practices work, and what can I expect turning up by myself?
A: It's a pretty fun process of organically pairing people together over multiple exercises. Your level of participation is completely up to you – boundaries, personal freedom and self-love are taught and deeply honoured.
Q: I am single and learning this by myself. How can I implement this in a future relationship?
A: You will be learning new tools and techniques for self-transformation that you can take home with you. You can continue your journey after this retreat as you can practise some of the tools you will learn in your own time and space. I encourage you to be the change you wish to see in the world and lead by example.
———————————————————
CANCELLATION POLICY
In order to maintain the gender balance of the retreat.
* Cancellation policy / No Show: no refunds
* You may transfer your spot to someone else of the same gender. Please arrange yourself and inform the organiser.
———————————————————-
HEALTH DISCLAIMER & LIABILITY:
This event involves movement and physical activity. If you have any serious injuries now or within the last five years, or any health issues that may interfere with your participation, please consult with your doctor and inform the facilitators (Ma Ananda Marali) prior to the event.
You are responsible for your own health and wellbeing during the event. While the event organizers will ensure that the event space is organized in a loving and safe manner with necessary health and safety requirements, Marali will not be held liable for any injury or medical, physical, mental, or emotional issues that may arise or be aggravated during or after the event. Please take care of yourself and your body, and communicate any concerns or limitations with the facilitators as needed.
———————————————————-
YOUR FACILITATOR
Ma Ananda Marali (Marija)
Psychology & Ethics Degree holder; Certified Yoga Teacher & Tantra Teacher/ Transformation Coach & Mentor / Tarot Reader & Clairvoyant
Through my work, I support a driving change in life. It is irrelevant whether it is Business, Relationships or Spiritual journey, Change is inevitable. You choose, if the Change is through resistance & pain or love and joy. I facilitate the space to help witness & recognise the patterns holding you back, reflect and move forward in the way that is empowering you and help to move forward in the moment of your journey.
Picture credits :
Eglė Blue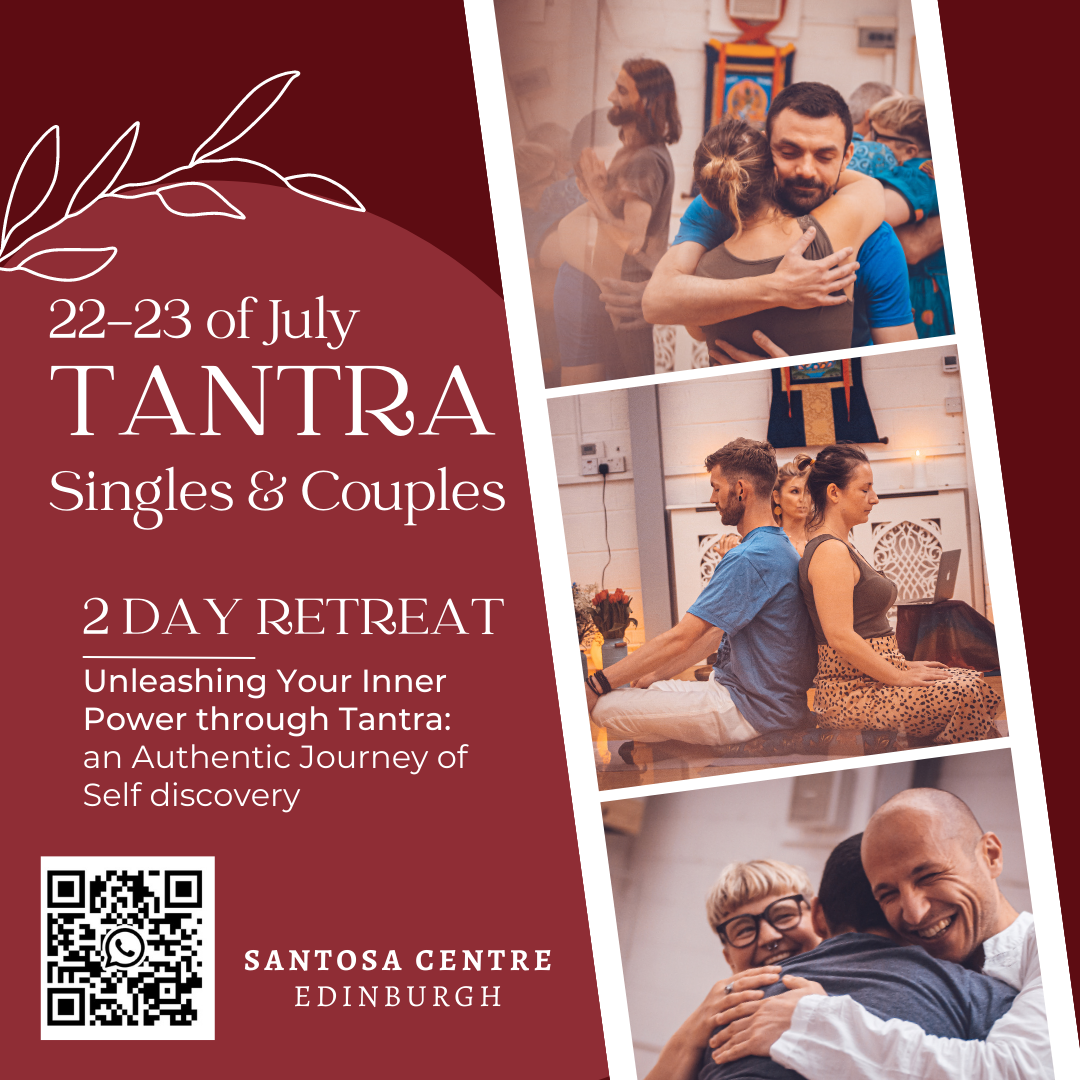 July 22, 2023 - July 23, 2023




8:00 am - 5:00 pm