Marta's Yoga Adventures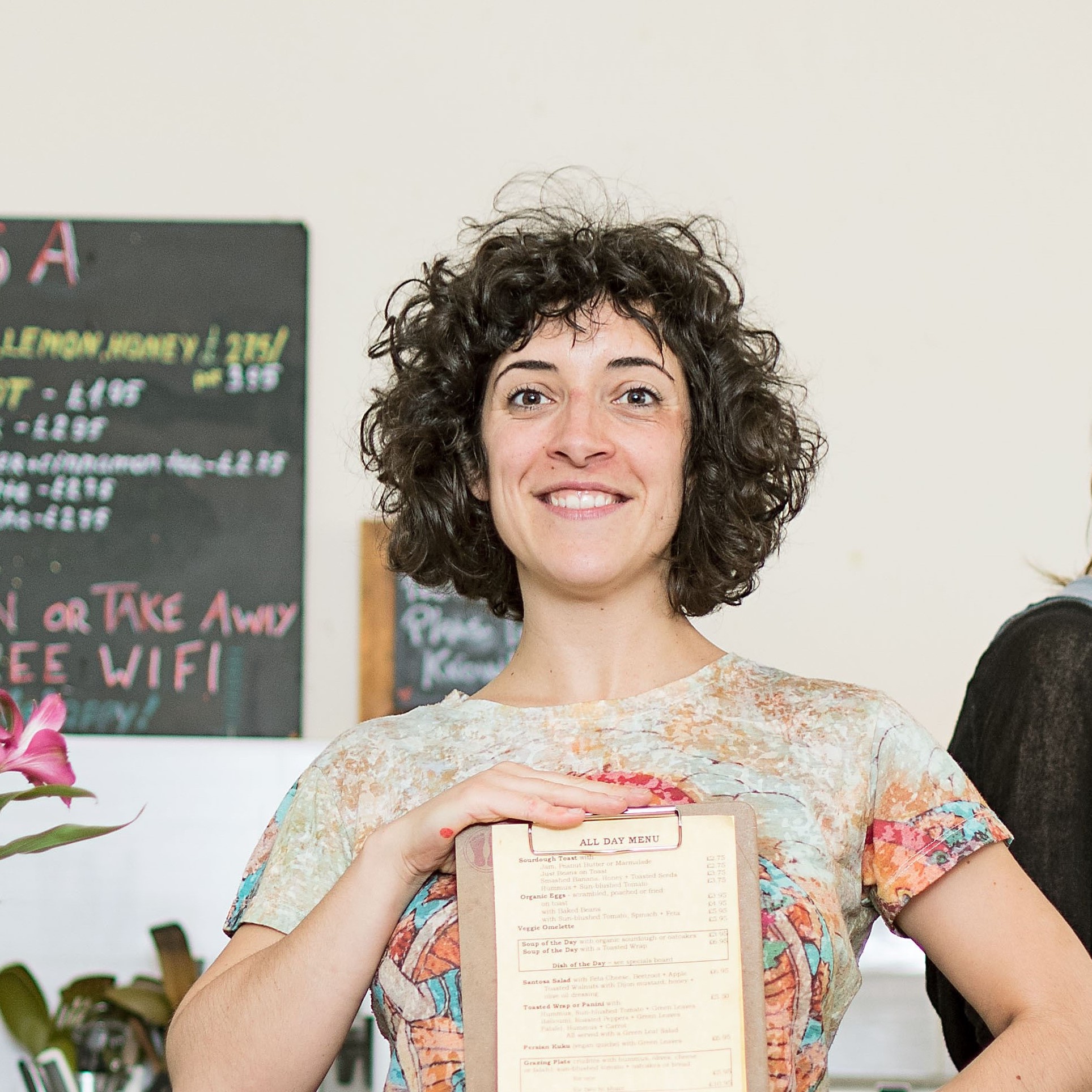 Before me stands a charming young lady with a wide and permanent smile which, along with her sparkling dark eyes, reminds me of the perfect representation of Spanish beauty. Her name is Marta, and she is the happy face of Santosa.
Several months have passed since Marta left us, chasing a dream of learning yoga from the masters that took her far away from home. After experiencing a fabulous adventure and learning some fundamental lessons from Eastern culture, she's back among Santosa's lovely community.
Marta's healthy tan gives the game away and reveals that she recently came back from the sunshine in India, where the disruption and fear of the global pandemic forced her to remain in the country of curry for a bit longer than initially planned.
Karnataka is a state in the southwestern region of India. It is the largest state in South India and the seventh-largest in India.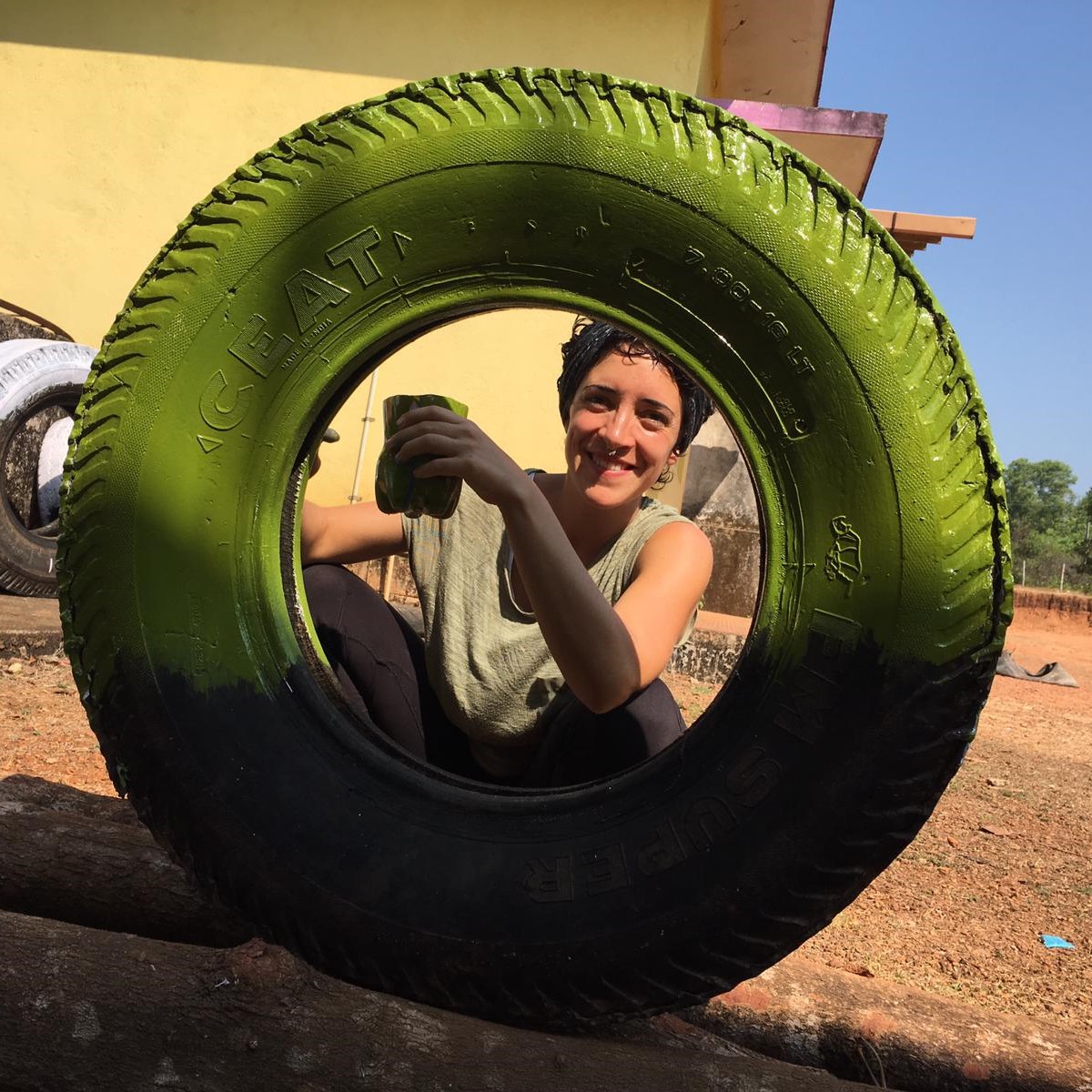 Marta and Teresa made the local press: No flight home, Spanish woman enjoys village life in Karnata ..
Welcome back, Marta. So what took you to India? Why did you go there in the first place?
Some reasons gave me the motivation to go there. My twin sister began a project to create a playground for children in rural India. I liked the idea of going there to help and immerse myself in the culture while I took the opportunity to reconnect with her as we have been living apart in different countries for over 10 years.
The other reason was the aim that my boyfriend and I had of going deeper into our yoga practice…and India was the best place for that!  And I guess that also the fact of working in the atmosphere of Santosa inspired me to be drawn into that interesting country and the yogi lifestyle too.
Then the pandemic erupted and you were stuck there. For how long?
I was stranded in rural India (Karnataka) for more than 3 months and when the borders between states opened, I spent another 2 months in Goa waiting for my sister to finish her project and for commercial flights to the UK to start operating …this never happened, so we finally left in an evacuation flight.
Tell us, what was your experience there (lifestyle, local issues, flights …)?
My life in a rural village in Karnataka was…interesting…fun…difficult!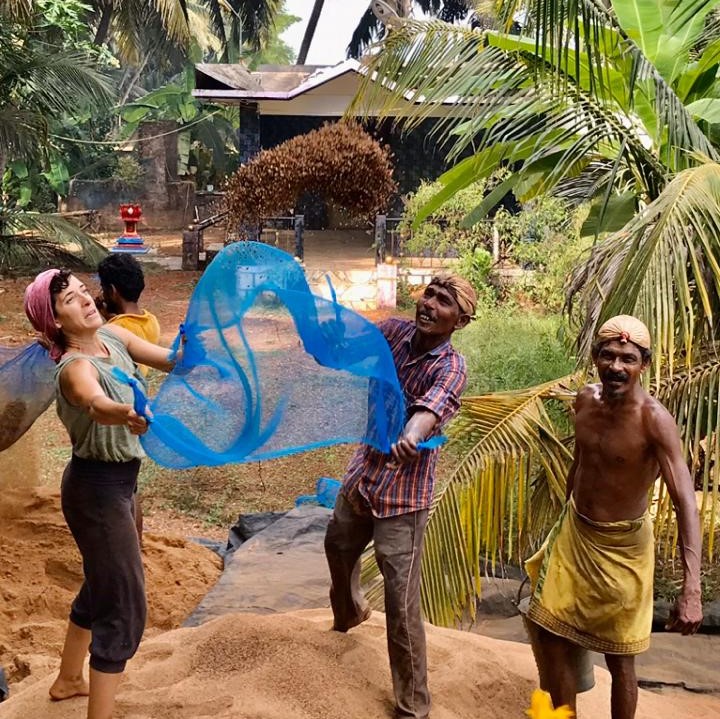 There were 8 of us, plus 3 dogs, 4 cows (I'm counting the animals because they were part of my daily life too). Initially, the days were quite dynamic and active organising different activities: fishing in the river, building a raft, milking the cows, grooming the dogs, collecting peanuts, planting rice, working in the children's playground, helping to build the second floor of the house, learning sessions about the local language and cooking, catching the rats that lived in the barn, or simply going for a walk to interact with the neighbours who ALWAYS invited you for chai…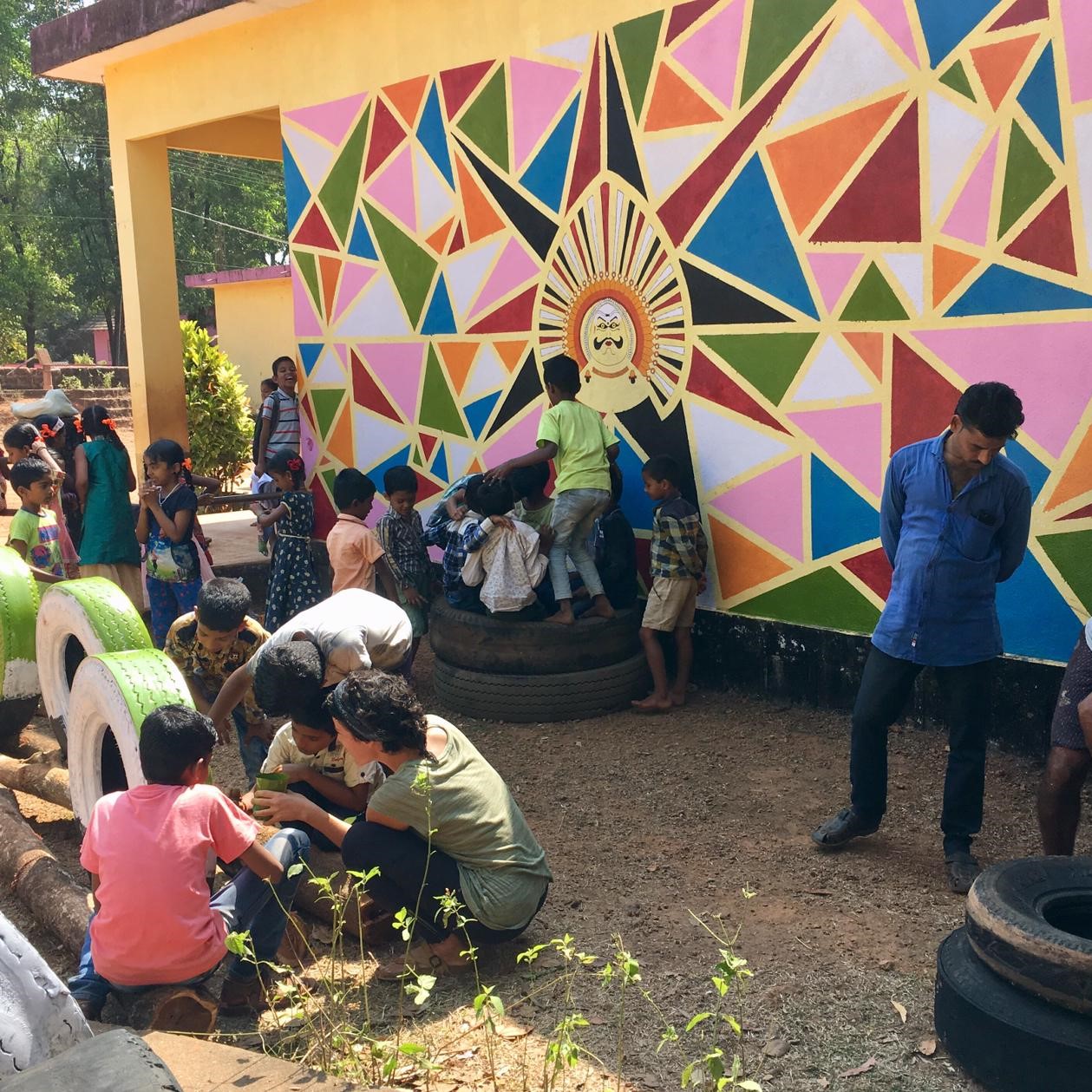 I really loved the interaction with the children/teenagers of the village, they were so alive, so curious, so lovely! It felt nice also to be able to speak in English with them (few adults spoke English) to get to know better their culture, feelings and dreams in life.
All those things were beautiful but my original idea of furthering my training in yoga and exploring the country was still in the back of my mind…I just had to wait for one month in the village (or so I thought) or maybe a wee bit more…but I never expected to be there for so long!
The Government of India wasn't clear in its communications about the situation, so that was when I realised that making plans in India wasn't worth it, it simply doesn't work, so you have to accept the situation and go with the flow in order to not get stressed out or be disappointed or despondent.
After the first month, the routine slowed down and the novelty wore off… new tensions arose in the house, while at the same time the COVID situation became worse and the difficult season of the monsoon arrived.
What else?
Well, my behaviour was too 'hippy' for the family…for example I wanted to do fruit fasting once per week (I declare myself a "papaya lover") because during all those 3 months my diet was basically rice with curry for lunch, dinner and breakfast! Delicious but too spicy and heavy for me to digest, so that's why being constipated was something common and not very pleasant.
Yoga poses were also strange for them, so I ended up doing my yoga practice outside the house in the peanut fields, making sure that no snakes were around, and finishing before the cows came to feed there at 9 am; the cows were very calm, but once I was licked by one of them while being in savasana (lying down with eyes closed to relax my body) and…we both got scared!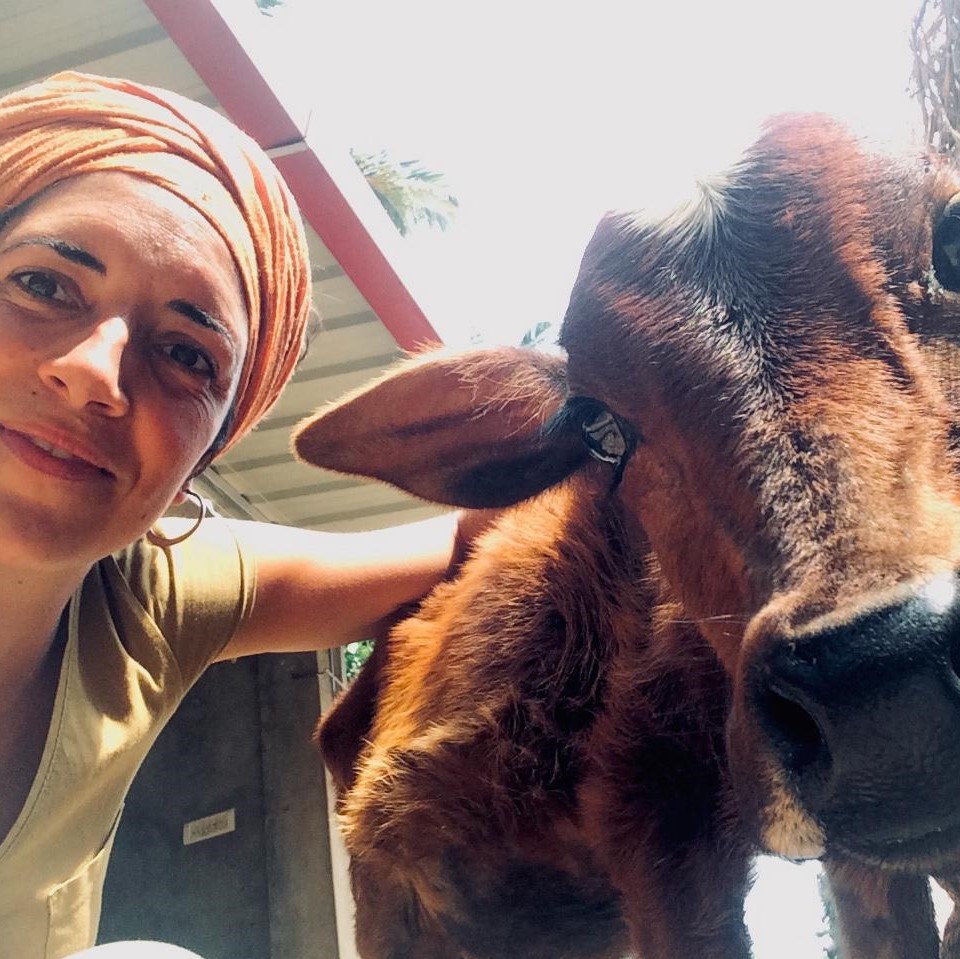 At home in the village, they also believed that women during their period were impure, so during that time they are not allowed to sleep inside the house or cook for the family.
My sister and I didn't know about "our impurity" so the grandfather got a bit offended with us for not respecting the tradition, because for him, and the rest of the family too, we were not tourists anymore, we were part of the family too and he wanted us to behave according to the traditions! But after a conversation with the eldest son who explained to him about our cultural differences he understood, and the tension was relieved.
Later on, the virus became more prevalent and I was not allowed to even go running, walking around to explore or have any interaction with the community, but there was a good reason for those restrictions as the grandmother had weak lungs, and was very vulnerable, so it was better to not to expose her to any risk.
I have to mention that just a few people in the village understood English, that's why many times our translator was little Marigold (we gave her that name as the brand of the hundreds of biscuits she was eating every day), a 9-year-old girl, the spoiled grandchild of the family that usually translated whatever suited her and in consequence put us in trouble.
Worse and best experience from your time in India during the global lockdown?
The worst thing for me was the "acoustic contamination"; what do I mean by this? Imagine being in a small village surrounded by peanut fields, coconut and jackfruit trees, a few small houses, the smell of incense, few cars and no motorbikes, wild peacocks, colourful birds and of course cows, BUT constantly…the loud sounds of TV shows, news, WhatsApp/ludo game music (like the soundtrack of E.T)!!!!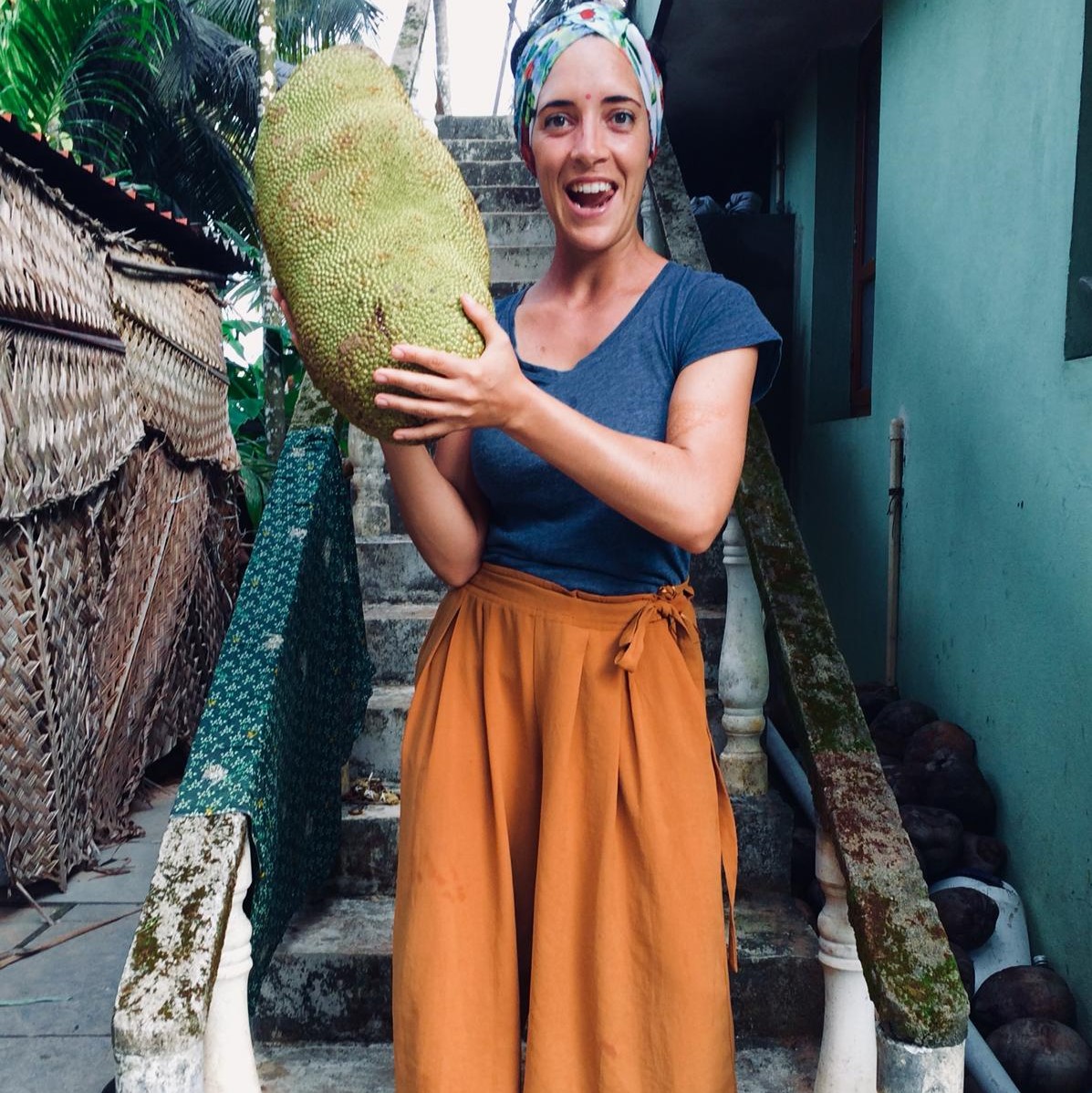 You may think that I am exaggerating but I had to use earplugs every time I tried to read, sleep or relax. There were no separate rooms, we all slept together on mattresses on the porch and I did not mind that I had no privacy at all during those three months, but the constant noise disturbed me.  I wasn't able to relax so I had to escape to the roof and sleep in a tent…until the heavy monsoon rain arrived.
I just felt frustrated being in a natural place which was spoiled by the noise of technology! The solution for me was to create a sacred space to focus on myself and that was only possible in the early morning: welcome the day, meditate, yoga practice, read a bit…and come back again to share the day with my sister and the rest of the family and the noises.
Maybe you will wonder why I didn't leave the house to read. Well, during the night there was no lighting and there were a lot of snakes so earplugs were the only solution…but during the day yes! The porch of the school was my place for that until it became a quarantine venue for people.
Here is a strange story: one day while walking under the hot Indian sun I stopped under the shade of a corrugated metal roof to read my book and relax. This place was in the middle of nowhere. Around me, there were only a few dogs having a nap. Reading…sleeping, like the dogs…. reading some more.  Suddenly a motorbike passed by…the man on the bike returned, looked and left again.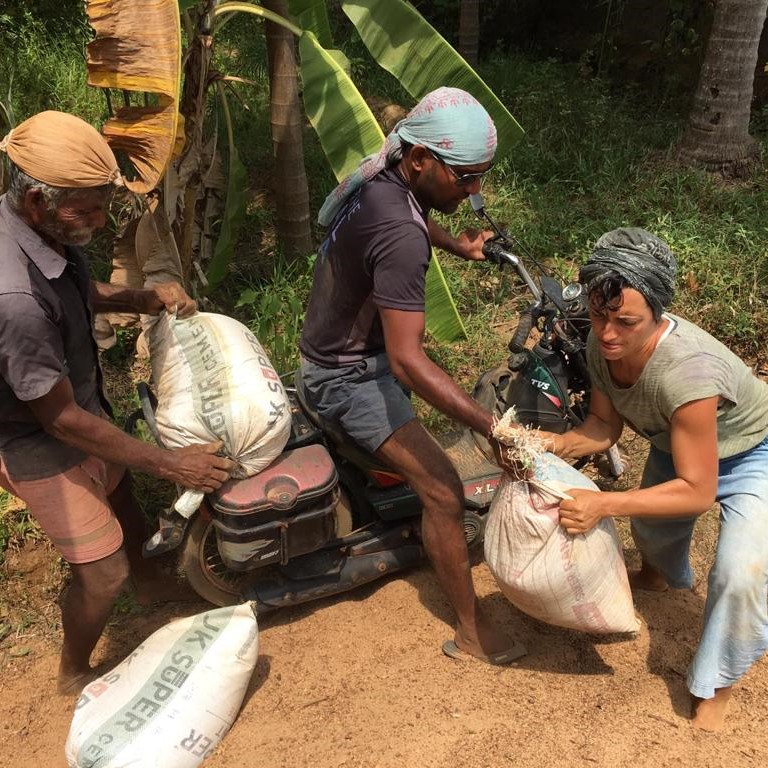 Next day during breakfast the family asked me if I went far away to read. "Yes…why?", I said. Then they told me that people in the village were gossiping about the fact that foreigners don't respect their holy spaces…" why?" At that moment I found out that the calm shady place I went to for reading (several times) was actually the place where cremations take place.
The best thing during the lockdown? Being with nature!! As I mentioned before all the random activities we did make that global pandemic situation very special for us if we compare it with my family and friends who were stuck in small flats. Being aware of that brought to my sister and me a deep feeling of gratitude!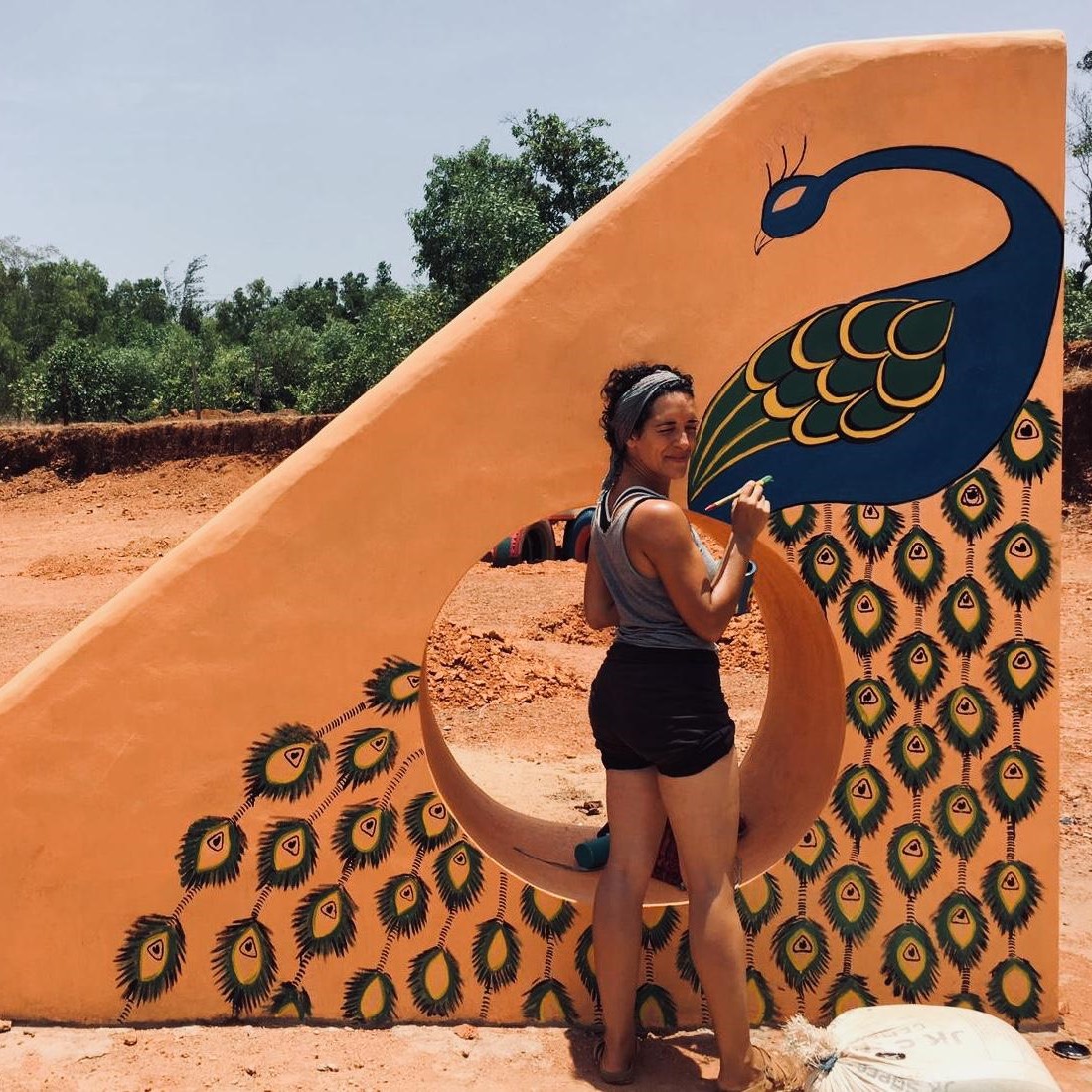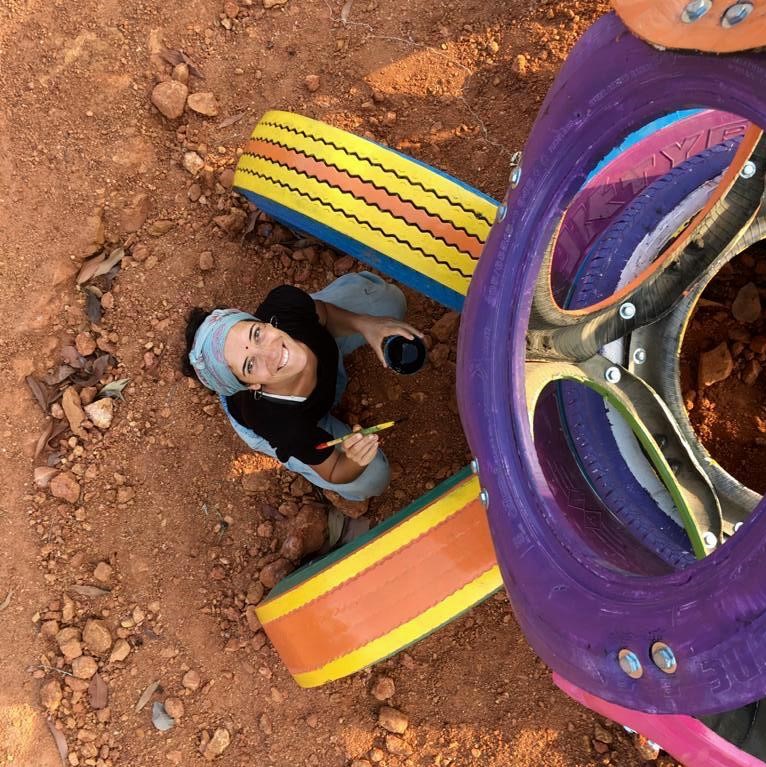 We really enjoyed that spicy, fun, tough, slow and nature bubble in which we were living!
BUT later on, with cases of COVID appearing nearby and the fact that we were 4,000 miles away from home, our feeling of vulnerability became more pronounced.
After that, you managed to come back to Scotland and you are now back at Santosa.
Yes! Back to my crazy and lovely Santosa family again! I cried when I met Janis at the office after all this time…I felt welcomed again as if I never left…Her heart is huge, as big as the whole venue! Haha! I am here again to help and support the venue as much as I can and to make it grow. I think Santosa is a very special place…Don't you agree?
It is indeed. So please tell us about that yoga training you went through in India.
My yoga training was through "THE YOGA INSTITUTE", an institution based in Mumbai since 1918. I had the chance to be part of the new centre that opened in Goa a few years ago in an awesome location away from the noisy city life. It was a retreat centre on a hill on a little river island surrounded by mangroves and picturesque houses built in the Portuguese style.
I was there for 2 months practising and learning the philosophy of yoga together with other classmates, mostly Indians and some foreigners: Colombian, Chinese, Australian, English and Spanish (me). The intercultural experience was lovely and we became a big family sharing and supporting each other constantly. The training we received there was very strict and focused on how to apply the values of the philosophy of Yoga in our daily life rather than only focus on the physical practice (asanas). Usually, the majority of ashrams are focused on body training because of the high demand we have here in the West.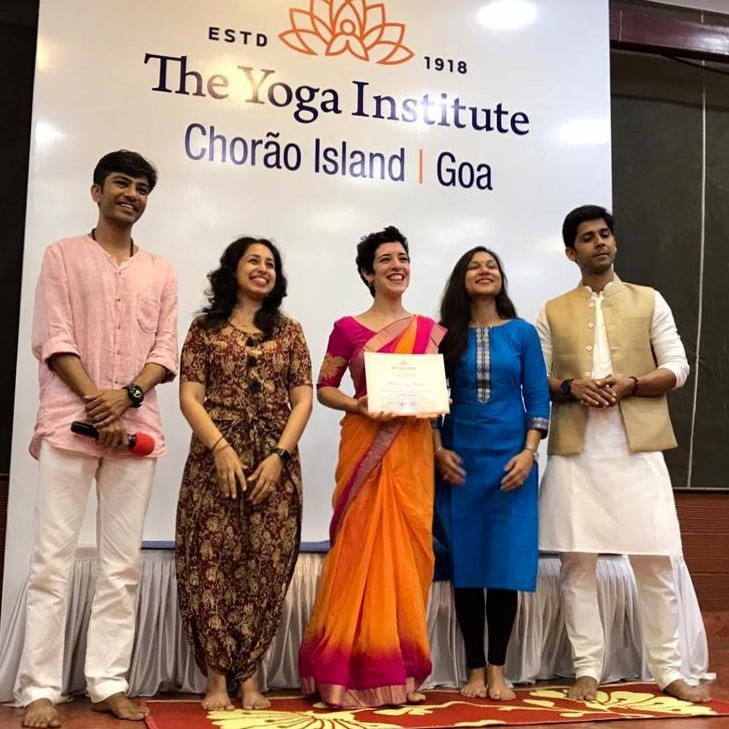 To give you an idea about how the routine was there, a single day looked like this: body cleansing techniques early in the morning at 6 am, stretching and yoga asanas, karma yoga, philosophy, anatomy, eating the delicious sattvic food in "mona", which means in silence, meditation techniques, self-study…
What are your professional and personal plans now?
We are currently going through difficult times where physical interactions are obviously prohibited and meetings are limited, so I feel a bit frustrated with the situation because it does not allow me to grow professionally. In India, I was already teaching and doing workshops related to yoga and consciousness in movement and I returned to the UK with the idea of ​​continuing with it …
Right now, I am trying to re-adapt my workshops to something less interactive to respect COVID rules and of course to keep people safe, and as soon as the government allows the yoga studios to reopen, I will be taking classes at Santosa.
Anything else you would like to share with us, Marta?
Ummm, about my experience in India, I will just say that it was incredible and a great opportunity to grow; the fact of reducing life to the basics gave me the awareness and appreciation of all that modern life positively gives to us and also all the negative aspects that take us away from the connection with nature and ourselves.
And about the current situation, I will say that living with fear doesn't help us to live a healthy life…nevertheless, focusing on wellness will give us the power to control any difficult situation that appears.
So, come to Santosa and feel the love and care from us!
Such an interesting tale of development you have brought back from India. We are so happy to have you back at Santosa.
Please feel free to drop by into Santosa's oasis of peace to enjoy the quiet environment while tasting some of its great food and drinks. Marta and her infectious smile, along with the rest of the lovely team at Santosa, will guarantee you a warm welcome…and an interesting story as well.
Stay safe and take care ?