Event Phone: 01315556255
Traditional Punjabi Cookery Classes with Shahana
Sunday, 7 November and Sunday 21 November | 6 – 8 pm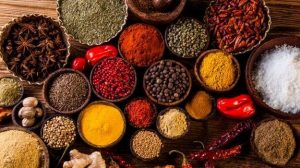 Envelop your senses with fragrant herbs and spices as you learn how to craft a Traditional Punjabi Curry and how to prepare the perfect basmati rice. Enjoy a creative evening of cooking with friends and impress future dinner guests with your culinary skills!
Shahana is sharing her cooking skills with small groups of four people. All ingredients are provided for these two-hour classes and you have the option of eating in or taking home the end result.
Classes take place on the last Saturday of every month for groups of 3-4 on a 'first come first serve' basis. If you would like to book a group class on a different date, please contact the studio desk.
Cookery Class Gift Vouchers are available, valid for 6 months from the date of purchase. Available from the Studio Desk at Santosa or via the online shop.
August 28, 2021




6:00 pm - 8:00 pm

September 25, 2021




6:00 pm - 8:00 pm

November 7, 2021




6:00 pm - 8:00 pm

October 30, 2021




6:00 pm - 8:00 pm